For Google Workspace.
For Microsoft 365.
Question:
How to configure to have different Password notification email for Encryption feature for different recipient group?
Answer:
In updated function in April 2014, you can now design the encryption notification email that is sent to the recipient for each specified destination.
In pre-update days, our service has been using one "encryption notification message (recipient)" in the entire filtering service, so you need to design the common notification e-mail which is written in both languages if you would like to use the each national language for the overseas users.
To specify the encryption notification e-mail depending on the application by encryption policy definition in advance makes capable for operation that sending the designated encryption notification e-mail to each specified destination.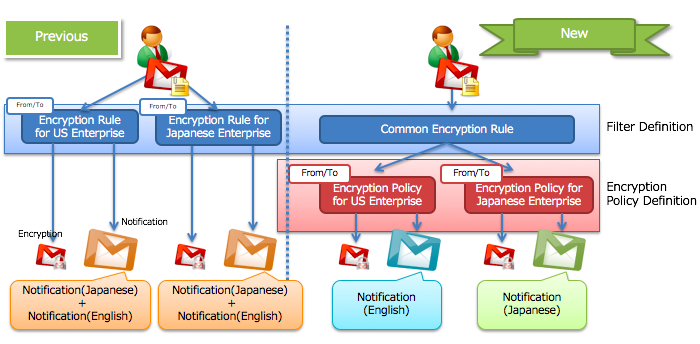 ■How to Set
(1) Definition of the encryption notification e-mail
In [Encryption] – [Define Encryption Notification], you can set by "New Encryption Notification Message".
* Please note that it is cited as it is even if the original e-mail subject has defined as a different language from the "Encryption Notification Messages".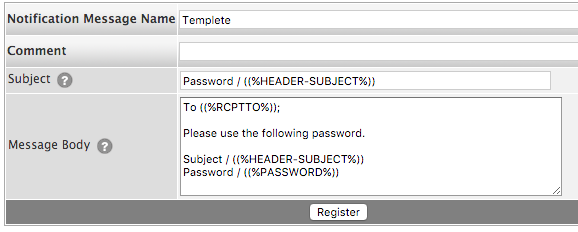 Set the contents of notification e-mail when an attachment is encrypted to the recipient.
You can use the following strings to insert in the subject and body:
((%RCPTTO%))      Recipient Address
((%HEADER-SUBJECT%))  Original E-mail's Subject (*)
((%HEADER-DATE%))    Original E-mail's Header Date and Time
((%PASSWORD%))    Password Generated by The System
(2) To specify the notification e-mail that was created at (1) in encryption type definition
In [Encryption] – [Define Encryption Type], you would specify the "created encryption notification template" to the Notification Message (for Recipient).

For the customers that did not join in the filter workshops, we will take a changing setting in our support team.