for Google Workspace / for Microsoft 365
This article explains how to search your filtering history on the Email DLP service.
- URL for Email DLP Admin Console
 https://console.mo.hdems.com/#/<yourdomain>/
 *Login with admin privilege and click on the star icon in the upper left side.
 *Set your domain applied for upon service contract to <yourdomain>.
- How to search your filtering history
You can search your filtering history on [Filter] >[Search History] by setting sent dates and a sender.
(The result will return exact matches with envelope from addresses.)

- How to check details
Once you click on the [▶] mark, you can check the details of your email.
Please check the "Current Status" and "Delivery Result" section.
"Current Status"
You can check the filtering result of the email.
"Delivery Status"
If "Current Status" is displayed as "Sent", you can see the delivery status of the email.
For either of the items, you can see detailed information by clicking [More Details].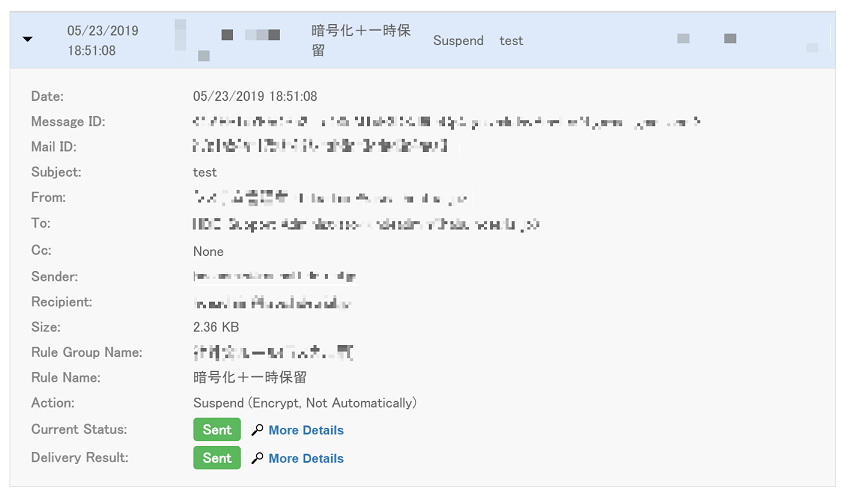 - Note1
"Delivery Result" indicates the delivery result to the destination server.
Note that there is still a possibility that a recipient has not received an email even if its status is "Sent", as in cases where the email goes through multiple servers before delivering it to the recipient.
In such instances, please get in touch with an administrator of a server mentioned in the "Relay" section.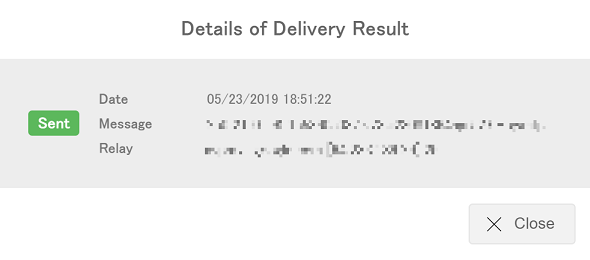 - Note2
Even if "Encrypt" is displayed on the "Action" section, an encryption policy may exclude the email from being encrypted.
In this case, go to "Encryption">"History" on User Console to check the actual encryption status.