Target
For customers who are implementing HENNGE Cloud Protection.
Purpose
Registering HENNGE Cloud Protection Subscription Key.
Cautions
1. The display UI screen may differ depending on your device's OS, versions, and module.
2. The content of this article is based on product specifications as of January 2023 and is revised accordingly without advanced notice.
Details
1. Confirm the Subscription Key
1.1. Confirm that the connection settings document sent by HENNGE contains the license key code information for HENNGE Cloud Protection.
2. Register the Subscription Key
2.1. Please access the following URL.
https://portal.business.f-secure.com/self-register
2.2. Please input the Subscription Key from [1.1] and your administrator Email address, then click on [ Submit ].
Please submit without changing [ Restrict Partner access my organization ]. (Do not check this box.)
If you have sent a message with the [ Restrict Partner access to my organization ] checked, please follow the instructions for turning off [ Restrict Partner access to my organization ] after all steps up to Step 2.7 is done.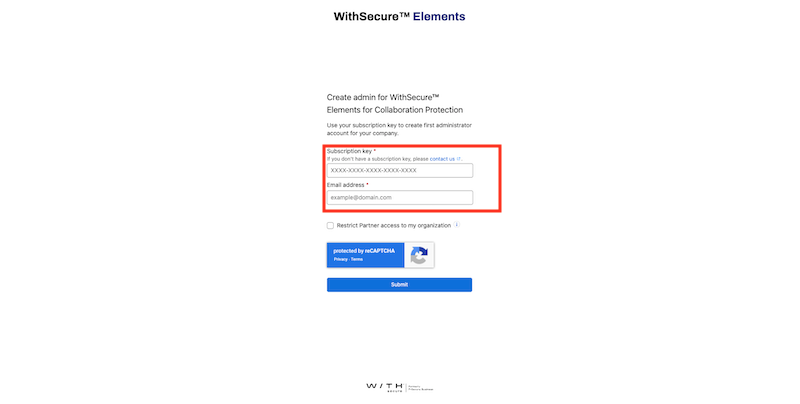 2.3. Confirm that you have received an email titled [ You have received access rights to WithSecure™] with the Email that you have entered in [2.2].
2.4. Access the URL attached in the email of step 2.3.
2.5. Log in using the initial password provided in the e-mail in step 2.3 and set a new password.
2.6. Select "Continue" on the screen that appears after executing step 2.5.

2.7. confirm that you can access to the HENNGE Cloud Protection administration page.