Target
This article is intended for customers who are considering using HENNGE Connect.
Content
Along with the release of HENNGE Connect, we announce an overview of its features, operating requirements, and limitations.
Outline
1. Overview
What is HENNGE Connect?
HENNGE Connect is a solution that provides both security and convenience in remote access to on-premise Web services.
HENNGE Connect generates a public URL for each on-premises Web service and enables restricted access with HENNGE Access Control when accessing the public URL.

Point1. Solves the problem of excessive access to the VPN environment.
Accessing and connecting to a public URL generated for each on-premises web service solves the problem of slow connection speeds and unstable connection conditions caused by VPN congestion.
Point2. Reduces security risks by integrating with HENNGE Access Control.
HENNGE Connect can control access to on-premise web services with HENNGE Access Control and cloud services.
HENNGE Access Control enables secure access to services with Multi-Factor authentication.
This prevents unauthorized access that targets vulnerabilities in the VPN equipment.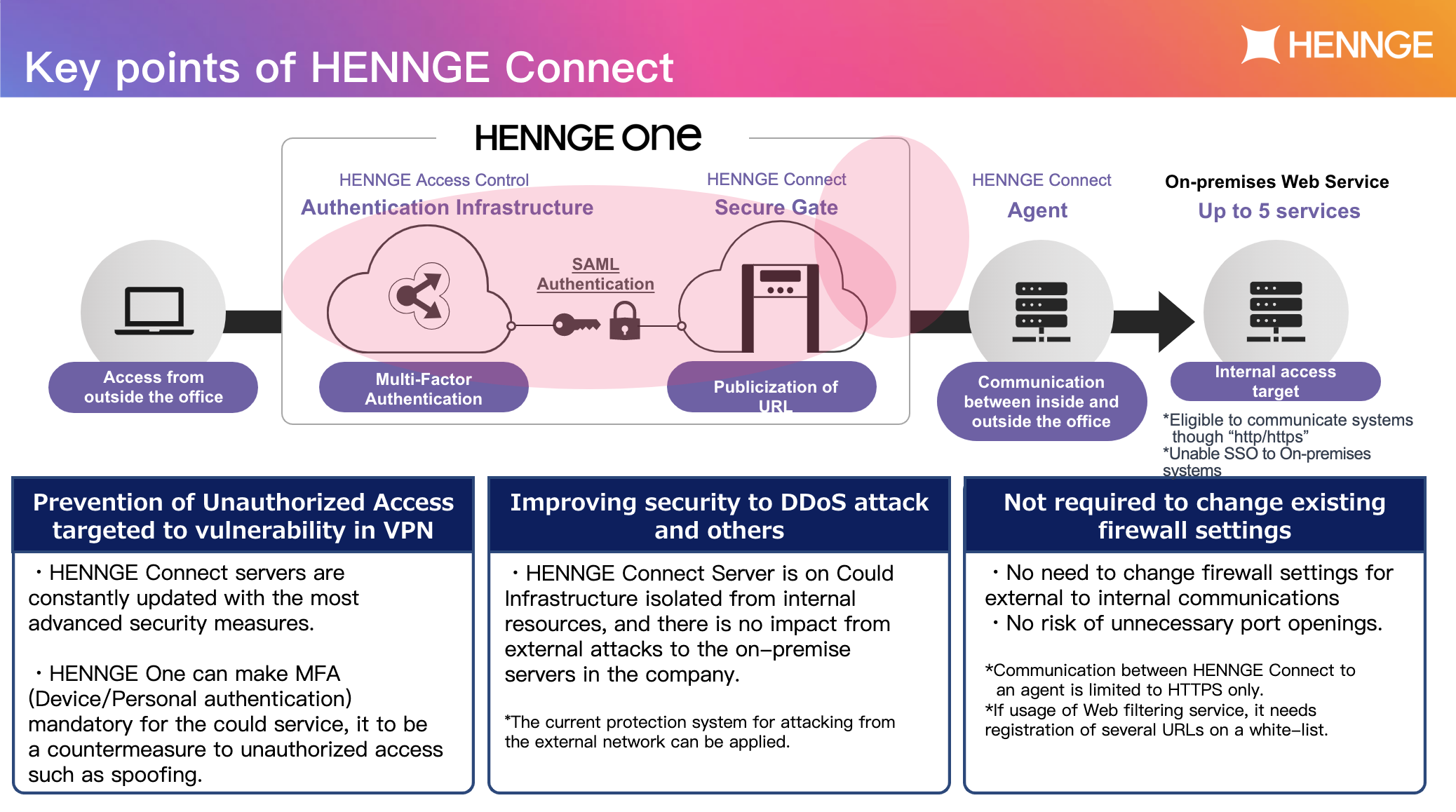 Point3. Simple implementation eliminates complicated settings and management burdens.
No need to make a huge change in the settings for on-premise web services and install client software on devices to enable administrators to reduce operating costs.
*Depending on the on-premise Web service, it may not be possible to integrate with HENNGE Connect. Please place an order after confirming the operation through verification.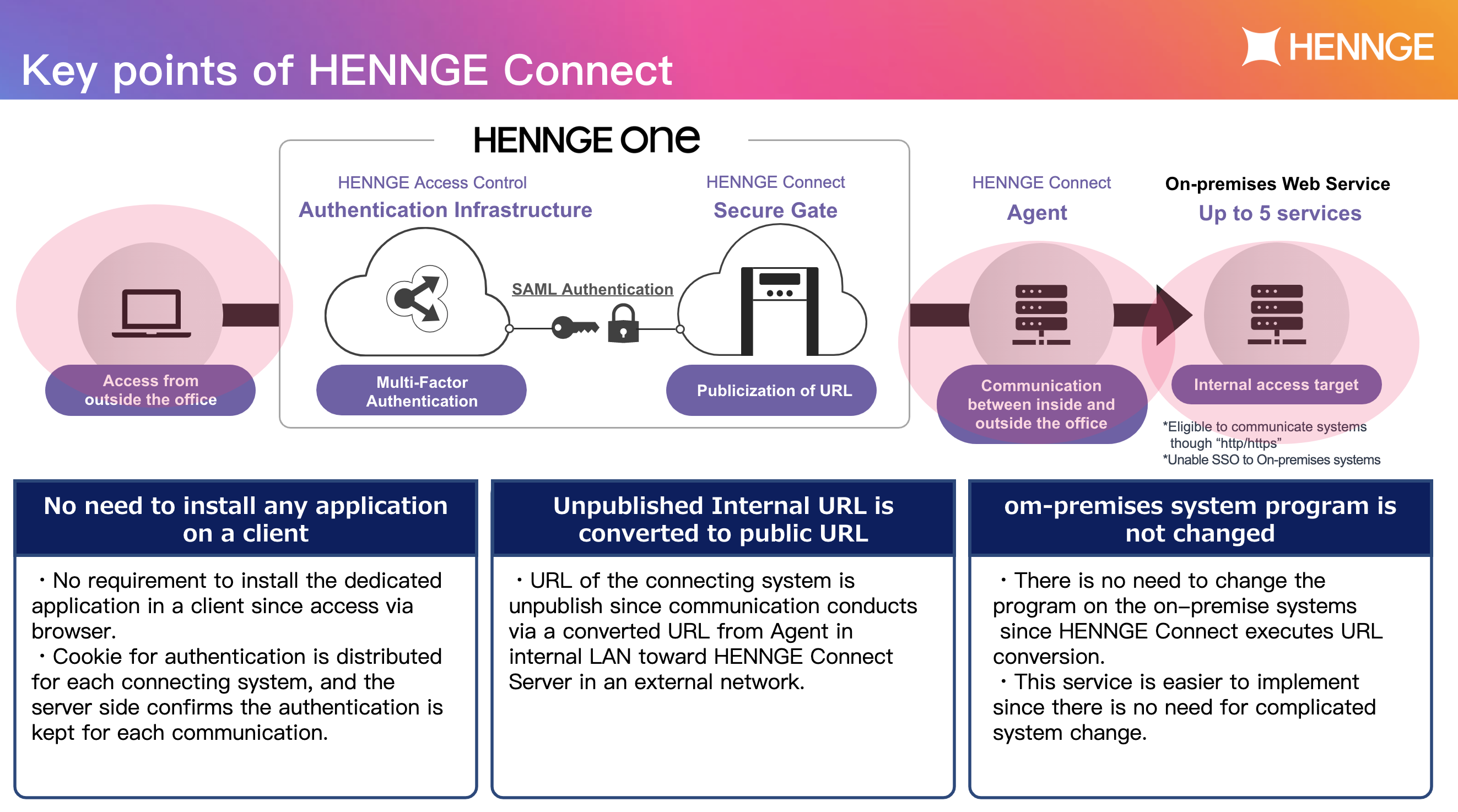 2. Implementation flow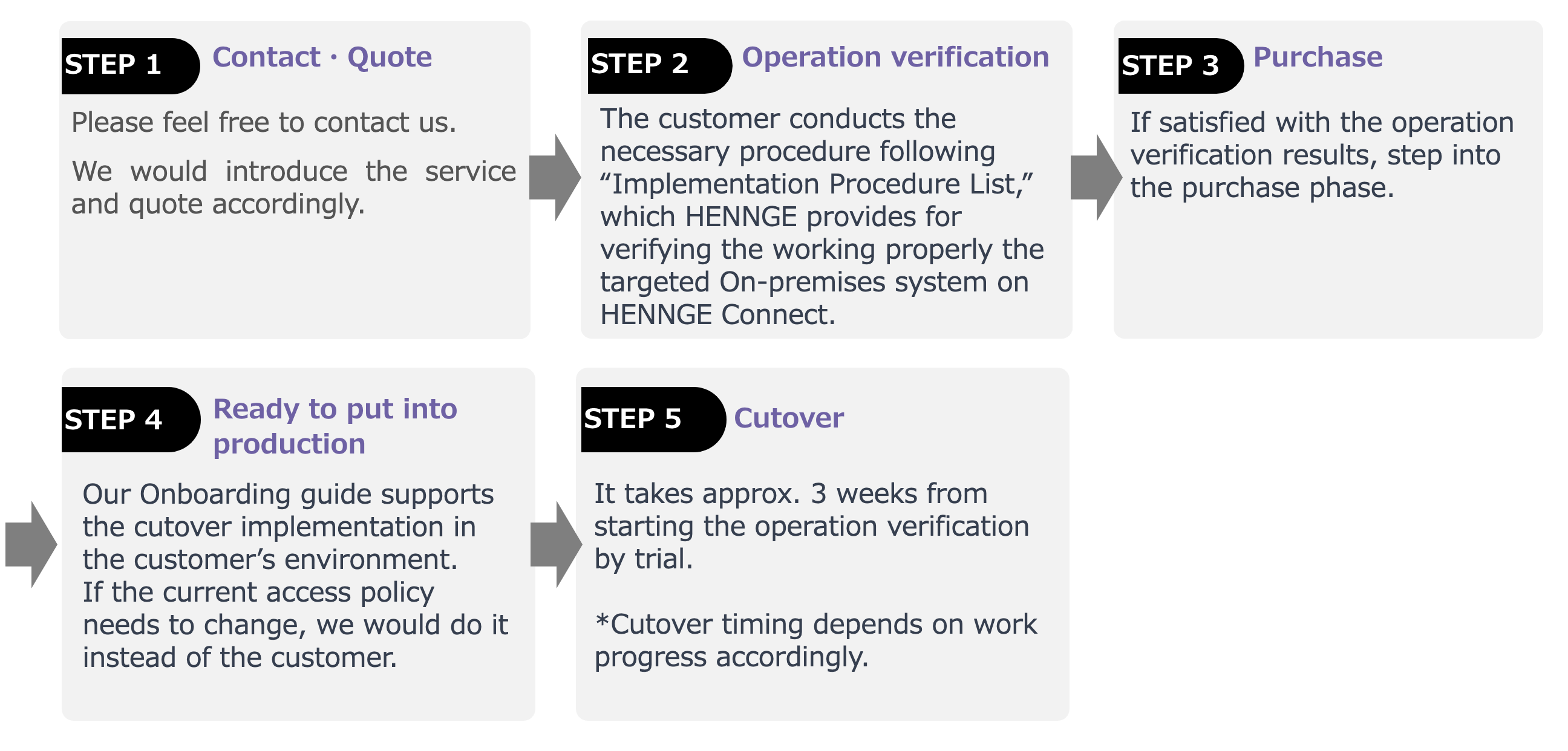 STEP 1
Contact・Quote
Please feel free to reach out to us. ​We would introduce the service and quote accordingly.
New Customer
Mail: one-partner@hennge.com
Contact form: https://hennge.com/global/form/
Existing Customer
Mail: cs-order@hennge.com
STEP 2
Operation verification​
The customer conducts the necessary procedure following the "Implementation Procedure List," which HENNGE provides for verifying the working properly of the targeted On-premises system on HENNGE Connect.
STEP 3
Purchase​
If satisfied with the operation verification results, step into the purchase phase.​
*License: HENNGE IdP Pro or HENNGE One Pro is the only plan which includes HENNGE Connect.
STEP 4
Ready to put into production​
Our Onboarding guide supports the cutover implementation in the customer's environment.​
We can provide a proxy setting if the current access policy needs to change.
STEP 5
Cutover
It takes approx. 3 weeks from starting the operation verification by trial.​
3. Operating requirements
Operating requirements for the HENNGE Connect agent
To use on-premise web services with HENNGE Connect, the HENNGE Connect agent must be installed on a server that resides on the same network as the on-premise web services. The HENNGE Connect agent must be installed on a server that resides on the same network as the on-premises Web service.
The server on which the HENNGE Connect Agent is installed must be Windows Server 2012 or later.
A user with Windows Server administrative privileges is required to install the HENNGE Connect Agent.
It is recommended that the HENNGE Connect agent not go through a proxy when communicating with the Internet.
Operating requirements for on-premise services connecting to
On-premise services that can connect to HENNGE Connect are limited to Web services.
Client Applications are not eligible.
Operating requirements for HENNGE Connect
If a web proxy or web filtering function is used, it is necessary to configure settings to allow access.
Please contact the person in charge for details.
Single sign-on between on-premise Web service and HENNGE Access Control cannot be performed.
Logins must be performed for HENNGE Access Control and the on-premises Web service.
The number of services that can be connected is limited to 5 per HENNGE One tenant.
4.
Limitations on usage
About the implementation
HENNGE Connect may not be compatible with some on-premises Web services.
Before installing HENNGE Connect, it is necessary to verify its operation in a validation environment.
If you are considering using HENNGE Connect, please reach out to our sales department before placing an order.
About the contract
The HENNGE Connect feature is part of the HENNGE Access Control service.
HENNGE Connect cannot be provided as a stand-alone service.
HENNGE IdP Pro and HENNGE One Pro must be subscribed to use HENNGE Connect.