Purpose
If the approver is not available, or if the sender cannot access their own user screen for some unexpected reason, the administrator of the HENNGE Email DLP
The HENNGE Email DLP administrator can manipulate (Send, Stop, Delete, Approve, reject) user emails on a proxy.
Initial check only
Check if the [ Notifications for Operation] setting in the administration page is configured, and then add it if it is unconfigured.
※This setting is used to notify the sender of the processing result when the administrator manipulates a pending email.
 Reference:Settings for Notification Emails
 →「4) Notification for unattened」
As shown in the images below, you do not need to do this if you have registered for the All destination.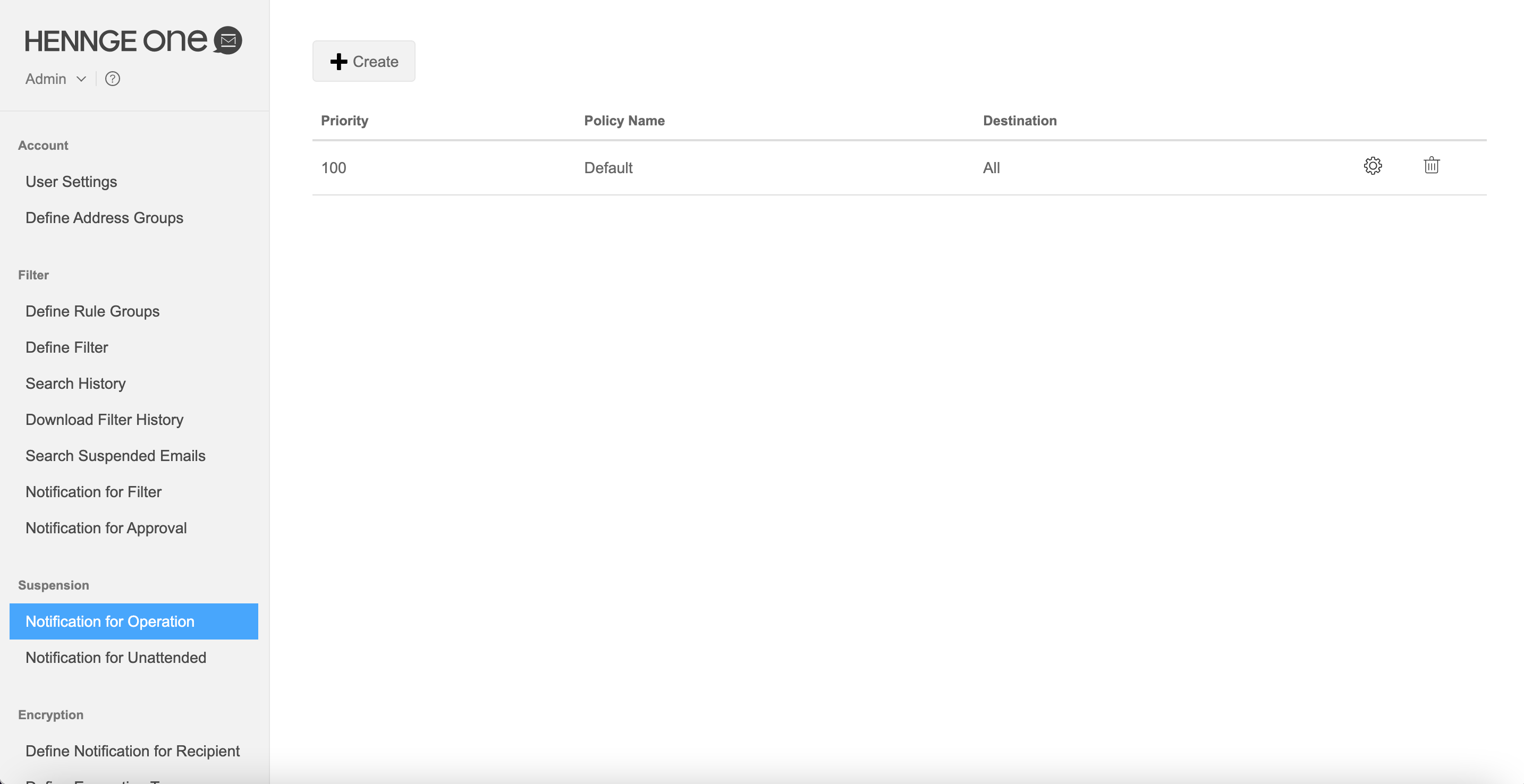 Operation method
Login to the HENNGE Email DLP Administration page.
Reference:Can an administrator (admin authorization) be assigned to multiple people(editing)?


Open「Search Suspended Emails」、then search emails。
By specifying the search criteria, you can narrow down the emails you want to manipulate.
(1) Status


 All Statuses、Suspended、Pending Approval can be selected。




(2) Date and time specification・presetes




(3) Date and time specification・custom


If you specify a date and time, you can filter by the date and time that the pending or approval process started.
(4) Sender


 Blank is for all users. To specify an email address, please enter an exact match.





Click on the column of the email you want to manipulate.


「Delete」「Stop」「Reject」「Download」can be operated without opening the details of the mail.



View the contents on the mail detail screen and take the appropriate action.


(1) Pending Approval




 Approve…Send email instantly. Comments for the sender can be added in the next screen.




 Reject…Delete email instantly. Comments for the sender can be added in the next screen.




(2) Suspended Email




 Send…Send email instantly。




 Delete…Delete email instantly.




 Stop…Stop email instantly.( Automatically stop releasing emails with a suspension period of 1-999 minutes.)




The result of the administrator's operation will be notified to the sender by email. ( This will not be displayed in the history of the user screen.)
The subject and body of the notification e-mail are the contents of the template set in 「Notification for Approval」 and 「Notification for Operation」 on the administration screen.